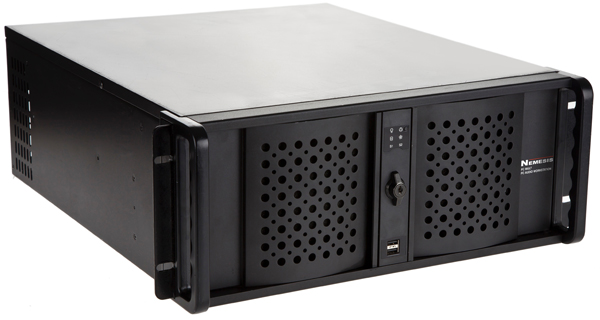 PC-PRO Audio Workstation
The Nemesis PC-PRO is a high specification rack-mountable computer, designed primarily for efficient audio playback and recording. Designed with live productions in mind, the PC-PRO is based around a fast Intel Processor with large RAM, and contains separate System and Audio Solid State Drives (SSDs) for ultra-fast performance, as well as a large data drive perfect for multi-track recordings. Quiet operation is achieved with low noise fans, high quality heat sink components and a low noise Power Supply, allowing the unit to be run at FOH positions with no offensive noise.
The Nemesis PC-PRO also features a Dual-Boot System Drive, via front panel drive bays. This enables designers to create a complete backup of the system drive onto a second drive in case of OS corruption, hardware failure or data loss. The systems are ideal to run show control software such as CSC, SFX or Ableton, or multi-track recording software such as Steinberg Nuendo Live or Adobe Audition. The Nemesis PC-PRO can be equipped with a range of audio interfaces, either external or internal via Firewire/PCI/PCIe.

Features
| | |
| --- | --- |
| » | Sturdy Ventilated 4u Rack Mount Case - perfect for full-size PCIe cards |
| » | Removable Drive Caddies |
| » | 250GB SSD System + 120GB Audio + 2TB standard hard drive |
| » | Atleast 3Ghz intel i5 Processor |
| » | Configurable as 4GB or 8GB of RAM |
| » | Low Noise Cooling |
| » | Dual Output Graphics Card |
| » | DVD Writer |
Applications
| | |
| --- | --- |
| » | Theatre |
| » | Live Events |
| » | Concert Touring |
| » | Conferences |
| » | Exhibitions |
| » | Visitor Attractions |
| » | Music Festivals |
| » | Film and Television |
| » | Cruise Ships |